It is often suggested that a complete light painting kit for night photography should include both incandescent and LED light sources due to the tremendous variation in color temperature between them. But what is equally important to understand is that LED bulbs have a great deal of variation within the LED technology itself. The image above shows the variation in color temperature between three Nitecore company products, each fitted with a different CREE LED bulb.
The shots above were all taken from the same distance, with the three lights adjusted to the same approximate output. All three images were taken within moments of each other, using the same flat-white foam core board and x-Rite color checker device.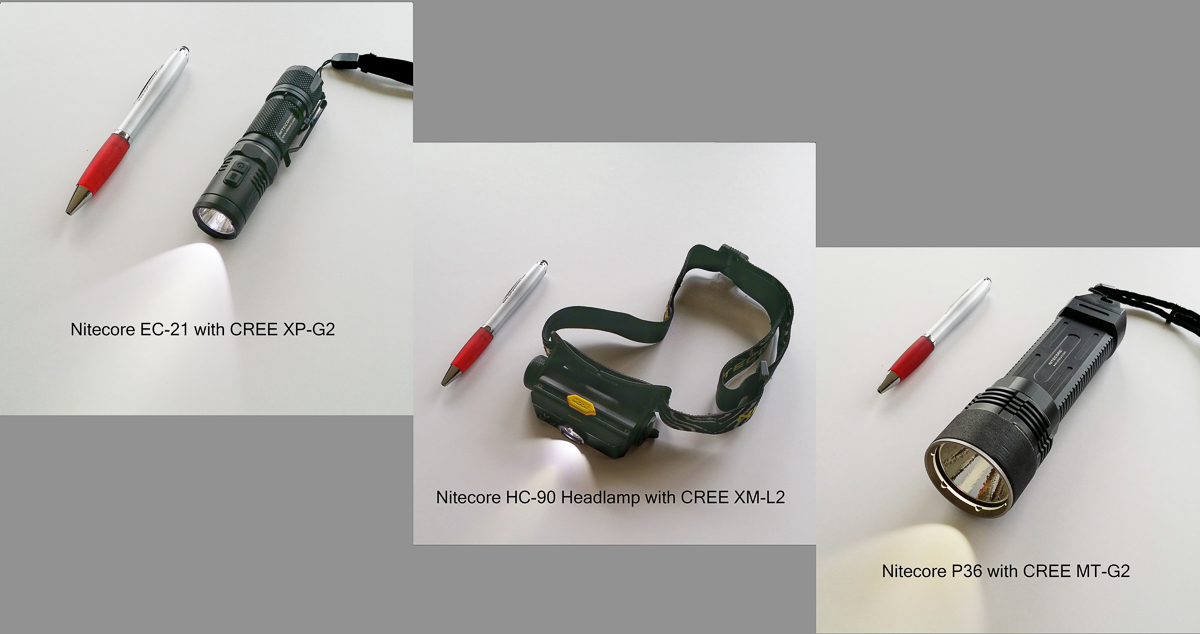 The CREE XP-G2Â Cool White (as used in the Nitecore EC-21) appears to be the coolest of the three bulbs, with a strong bluish tint. The CRI (Color Rendering Index) of the cool white version of the XP-G2 bulb is 70. A high CRI number is good – the higher the Index, the more accurate the bulb can render the colors. In this case, a CRI of 70 is not a particularly good score for color rendition (for a discussion of the significance of the CRI Index, see here).
The CREE XM-L2Â Neutral White (as used in the Nitecore HC-90 Headlamp) moves away from the strong cool blue cast of the XP-G2, but shows an almost greenish tint to the subject. The CRI of the Neutral White version of the XM-L2 is 80, and while not great, is an improvement over the XP-G2 Cool White.
The CREE MT-G2Â EasyWhite (as used in the Nitecore P36) is the warmest of all three bulbs compared here. With this bulb, the blue color cast entirely disappears, with the bulb casting a rich warmth to the subject. The CRI Index of this bulbs jumps up to 90, which is considered a very good score. For color rendering accuracy, this bulb outperforms the other two in this article.
There is more to a light than just a bulb, however. Each type of light functions differently, and has been designed for a specific purpose. This is why the major manufacturers each have such a dizzying array of products in their lineup, and why it can be baffling trying to determine which light might be best to purchase. In this regard, I will be reviewing these three LED lights, as well as other lighting equipment in the near future, pointing out those features I find important, and those that are not.  I thought it would be helpful, however, to establish the difference in LED bulbs before starting the specific light reviews.