It is not unusual for me to find deer antler sheds around my fields and pastures, such as the ones pictured above.  I try to keep a sharp eye out for them in the fall, particularly when I am using the tractor to bush-hog our fields.  Why the sharp lookout?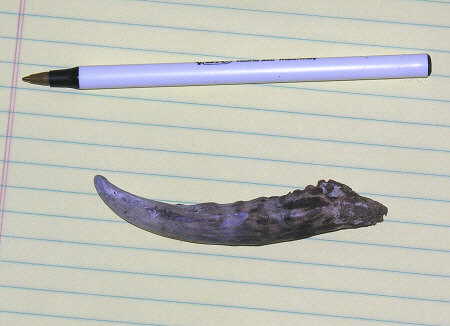 In the photograph above there is a small tine from a deer antler that I keep on my desk.  It reminds me of the day I found it, lodged in the sidewall of a perfectly good rear tractor tire.  Seeing as this tine cost me about $400.00, I figure that it can at least serve as a paper weight for a short period of penitence.
We find the sheds so often that I thought I would begin to mount them and display them on a wall.  I was in Bass Pro Shop in Springfield, Missouri about 5 years ago, when I saw an antler mounting kit for sale at a reasonable price.  I bought one, and soon had a pair of shed antlers proudly on display above my office desk, as you can see in the photograph above.
Something looked peculiar with the antlers I had hanging on the wall, but I couldn't quite put my finger on what it might be.  Then, one day as I was browsing through some deer photographs, it dawned on me – the antlers hanging on my wall looked odd because I had mounted them upside down!
Oops!  I was about to climb up on my desk to retrieve the plaque with the mis-mounted antlers, when it occurred to me that it might be fun to leave them as they were, and see how long it would take until somebody noticed the error in my faulty craftsmanship.  To date (about 5 years now) no one has said a thing.  I wonder how long this streak will run?
This mistake could have been avoided if only the antlers appeared in my pastures and fields just like the ones I found today –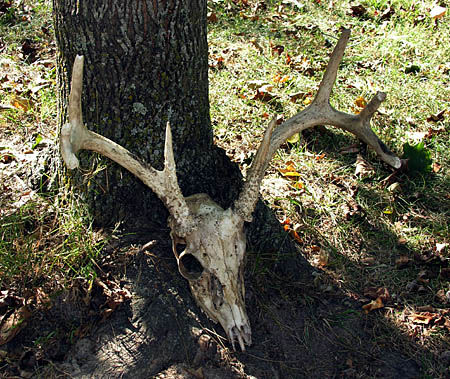 I ran across this specimen as I was performing a few grounds keeping chores today.  You can clearly see the correct orientation of the antlers relative to the skull on this young buck.  There is no way even a dummy like me could botch this up ;)
I am surmising that this buck was relatively young, as there were no missing teeth, and the teeth looked to be sharp and undamaged.  Various other skeletal remains were located in the vicinity of this skull.  Perhaps he was brought down by a pack of coyotes, and then the carcass picked clean by vultures and other critters.