Wild tom turkey strutting and posing for a hen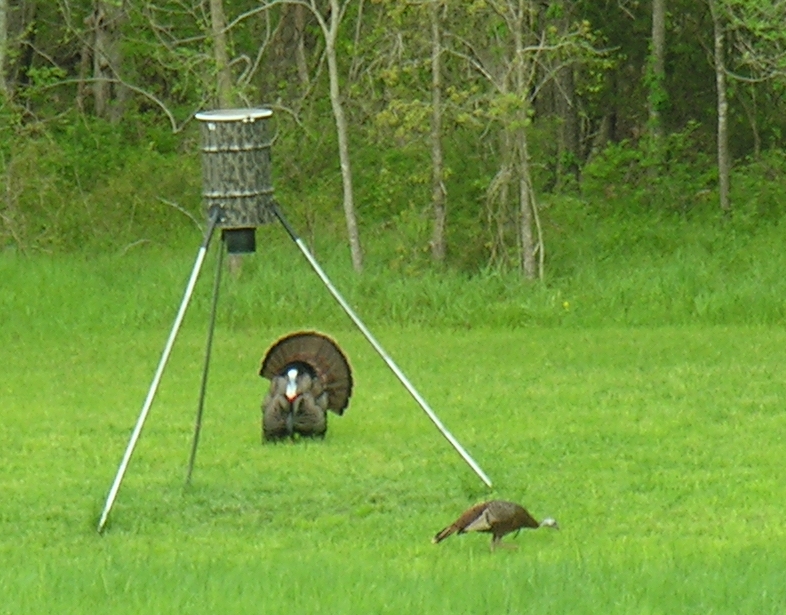 It's time for me to change the batteries in the feeders again.  Even though the manufacturers of the feeders claim that a 6v alkaline battery should last about 6 months, I have found that I have to change them about every 2 months in the winter, and every 3 months in the warmer times of year.
     I started out by using rechargeable 6v batteries, which saved money (6v alkaline = $7-$9 each),  but I found that they needed recharging every few weeks.  That got to be old real quick.
     So then I tried adding a solar charging panel to the system.  That didn't work, because the squirrels would gnaw through the wiring, no matter what I did to protect it.
     So then I replaced the feeder with a new one that contained an integral solar panel built into the housing.  That solved the squirrel problem.  The only problem?  The integral solar charger wasn't able to keep the internal battery charged.
     So then I replaced the new feeder with a newer one!  An OnTime Fatboy Feeder (pictured above) that used TWO 6v alkaline batteries.  The manufacturer claimed they would last about 1 year.  I don't know, because the circuit boards in them would fry in about 2-3 weeks!
     So then I replaced the newer feeder (which replaced the new feeder) with the NEWEST of feeders.  Got that?  Back to one 6v alkaline battery, no solar charging, and they seem to be working fine – as long as I change the batteries every 2-3 months and keep them full of corn.