Sometimes Retta will toss stale bread and other tidbits out on the lawn for the crows to enjoy.  There is one crow who will often come near the kitchen window and pester Retta with it's cawing until she tosses something out for it.  This got me to thinking about a crow I met some decades ago, in the badlands of Death Valley
Death Valley was one of my frequent haunts decades ago, and I would try to visit the area twice per year.  One of my favorite hikes extends from the valley floor, up through the steep, narrow walled Golden Canyon, and on to Zabriskie Point (at the very upper right in the photo above).  At the very left top of the photo is a landmark called Manley's Beacon.  Here is a closer view of Manley's Beacon: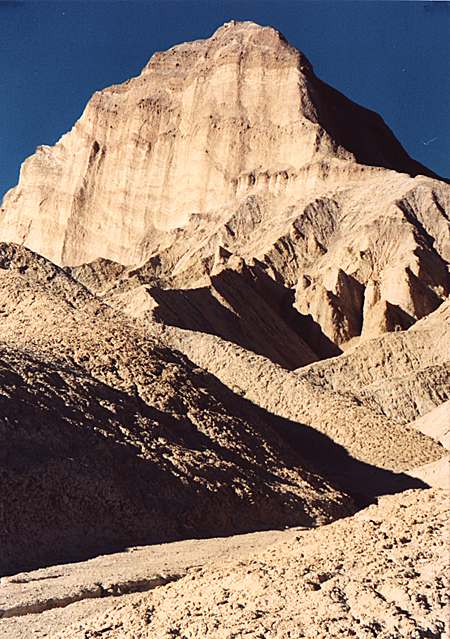 The area around Manley's Beacon is a rugged, but very beautiful area, so I made it a habit to pack a lunch and spend a few hours poking around the area for photo ops, or looking for fossils, or just enjoying the scenery.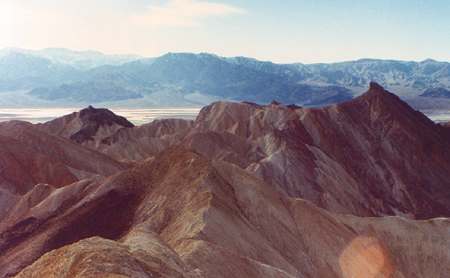 One day, as I was eating my lunch, I heard the distinctive "caw, caw, caw" of a crow echoing throughout the area.  The cawing continued for quite a while, and seemed to originate from a draw some distance away.  Suddenly, on a whim, and knowing that I was out of earshot of any other people, I began my best imitation of a crow.  Soon, the crow began to mimic my cawing patterns.  I kept this up, and much to my surprise, the crow flew over to where I was sitting.
Well, I certainly didn't want to get a reputation for being inhospitable, and since I was eating lunch, I offered the crow a morsel or two (okay, so I shared half my lunch with him, so what?).  The crow spent a good deal of time with me on that rocky outcropping, but refused to come any closer than a few yards away.  He looked nervous about being even that close to me, but I suppose his fondness for people food trumped his fear.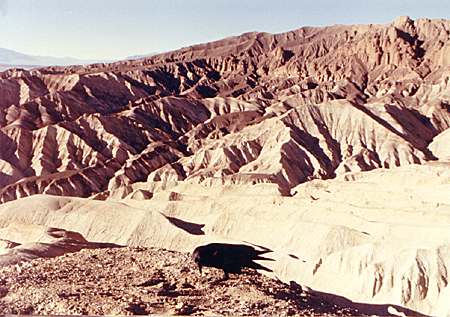 On my next trip to Death Valley, several months later, I hiked up to the same area and soon settled in to eat my lunch.  I began a chant of "caw, caw, caw", and before long, my chants were being echoed by some crow in the distance.  This time, as the crow approached the outcrop, he showed no sign of hesitation, and proceeded to land almost on my boot.  We had lunch together, and then he left.  I believe it was on this second encounter with him, that I began to call him "Squawk".  It just seemed to fit.
This routine went on for a few years.  Whenever I would visit Death Valley, it now became a necessity to hike up to Manley's Beacon, just to see if Squawk would show up for lunch!  It almost became an obsession.  About five years after my first encounter with Squawk, I again returned to the area, and being a creature of habit, again went to visit my "friend" the crow.
Before too long, as had become the routine, Squawk responded to my calls, and joined me for lunch and a little socializing.
But this time, Squawk had a surprise for me.  Squawk was not a he, but a she.  At least, that is what I now presume.  For Squawk had brought along a guest for lunch, and he certainly appeared to be more the virile sort than Squawk.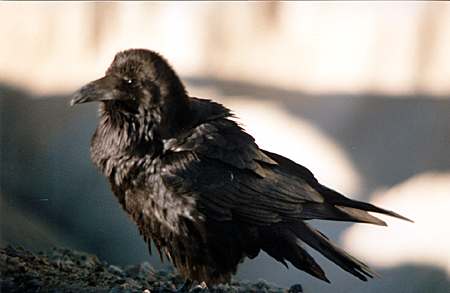 As it turned out, due to life's twists and turns, that was the last time I ever had the opportunity to visit with Squawk and her mate.  I do wonder, from time to time, what ever became of them.