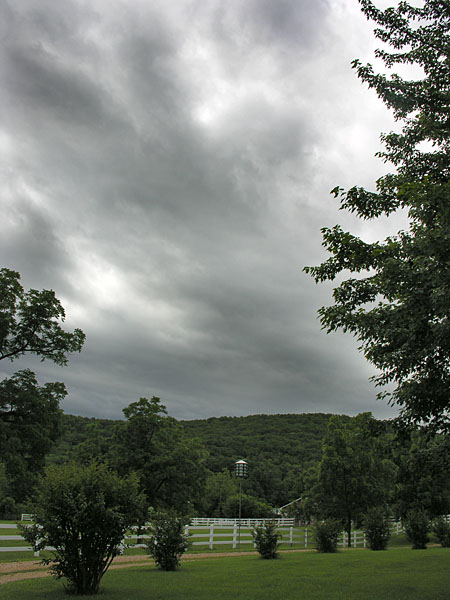 The NWS forecast calls for thunderstorms in this area today, with strong chances for additional thunderstorm activity later in the week.  So it doesn't look like we will see any activity on the hay production front for the next several days. 
Meanwhile, the timing of the abundant rain we have experienced this Spring seems to have suited the black walnut trees just fine.  The walnuts are nearing golf ball size, and unlike last year, our productive trees appear to be prolific this year.
Hmmm…. it just occurred to me that I neglected to post anything about last year's black walnut harvest.  In fact, I had not even reported the results of the 2006 harvest.  Well, better late then never, so here goes.

You may recall that in 2006, our friend Jasper was Hoping to Top His Previous Record Harvest, which stood at about 400,000 walnuts.  He ended up having a great year, but fell just a little short of his previous record.

In 2007, outside of one or two consistently outstanding producers, most of our black walnut trees were barren.  Even with all the farms Jasper includes in his rounds, he could not even locate enough walnuts to make up one full truck load.  So 2007 was a bust, but from the looks of our trees, 2008 should be a very productive year.
When the time comes to bale the hay, I'll post some photographs of this year's harvest.