Retta spotted one of our guinea hens foraging in a pasture the other day, accompanied by a brood of newborn guinea keets, as seen in the following photograph..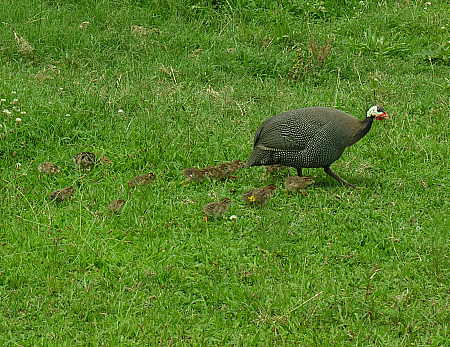 We were excited to see this, because up until now most of our guineas were raised in captivity by Retta in a setup like you see below.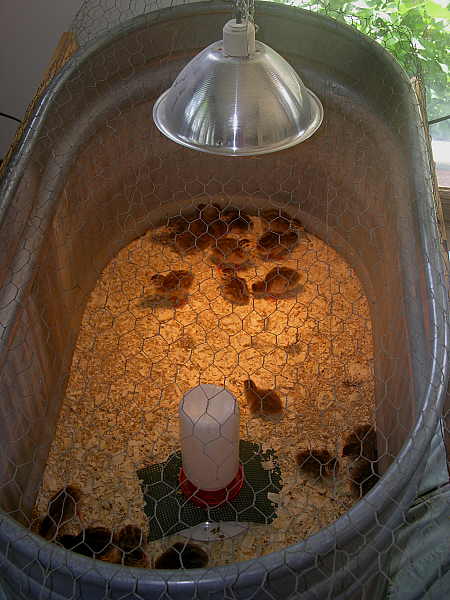 It is a fair amount of work raising keets in this manner, so Retta and I are hoping that our flock of guineas have finally reached the  "critical mass" necessary to be considered a self-sustaining population.  After all, as long as there are ticks in this world, you can never have too many guineas roaming around your property.
Now, if you peer again very closely at the first photograph (at the top of this post), do you notice anything unusual?  Nothing?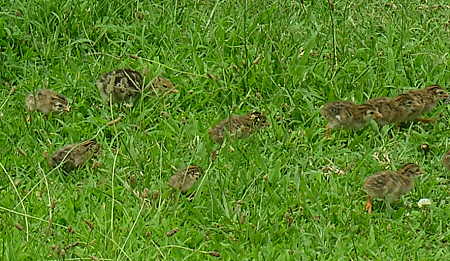 I've taken the liberty to enlarge a portion of that photo slightly, for the benefit of those of you who, like me, are afflicted with middle-aged eyes.  Now do you see what I see?  Give up?
Look closely at this fella.  He does not look the same as the other keets.  I believe that this is either a very deformed guinea keet, or else a turkey chick somehow joined the flock ;)
If you don't believe me, compare him to the guinea keets we raised in captivity, pictured below.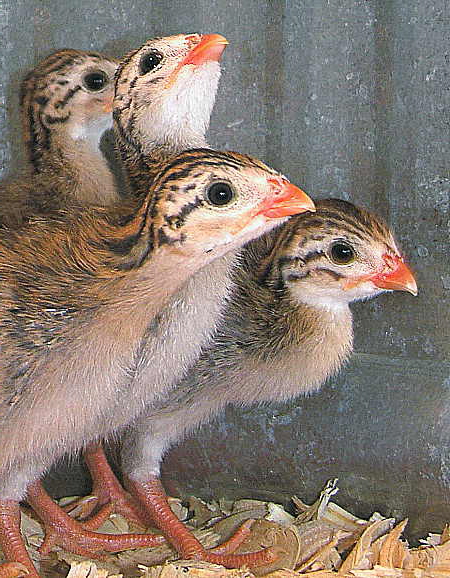 I surmise that the wild turkey chick wandered off with the guineas as they passed by, and then lost his directions back home.  Sadly, the chick did not survive.
UPDATED at 6:13 PM
I think this side-by-side photo of the guinea keets standing with the turkey chick highlights the differences in their stature and coloration.