Let's turn the clock back to the year 1966.  If you were around in 1966, you would have found the following to be true:
Lyndon Johnson was President of the United States.  The new Medicare act was implemented.  The Supreme Court issued the the well-known Miranda decision.  It was a bad year for Los Angeles sports fans, as the Baltimore Orioles swept the LA Dodgers in 4 games, and the Boston Celtics bested the LA Lakers in an extremely competitive 7 game series.  The Oscar for Best Picture went to "Sound of Music", and Frank Sinatra walked away with the Grammy award for Best Album of the Year.  On the economic front, you could buy first-class postage for a nickel.
But the most important 1966 event in the agricultural world was the introduction of the John Deere model 1020 industrial tractor.  The significance of this tractor is that it signaled to the tractor world John Deere's intention to compete vigorously in the low cost utility tractor market.  To be price competitive, John Deere needed to cut production costs, and to that end, they developed a three-cylinder gasoline engine, which was put into their new model 1020 tractor in 1966.  This tractor is credited with starting the 3-cylinder utility-tractor engine configuration, which is so popular  among tractor manufacturers today.  Here is a picture of the John Deere model 1020 tractor, which sold for $4500 back in 1966-
This is a 1966 John Deere model 1020 tractor that is owned by my neighbor Jimmy.  This is not a "coddled" tractor restoration by any stretch of the imagination.  This is a work-a-day tractor that is put into hay production and bush-hogging use regularly.  Periodically, this tractor needs to be "convinced" as to who's the boss.  Jimmy stores a large, heavy hammer in the tractor's tool box for just such occasions!
Our late neighbor Boots used to cut, rake, ted, and bale the grass in our hay fields until he passed away several years ago.  Now, Jimmy is doing this for us on a share basis.  Here is Jimmy hard at work cutting the hay in preparation for baling this past season-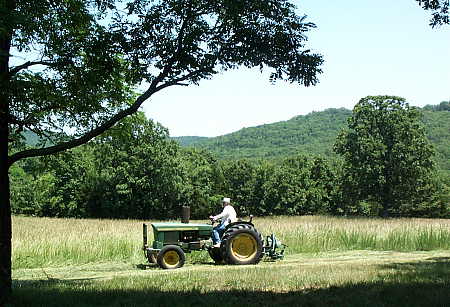 The hay field pictured above is one of the fields that Retta and I have decided to take out of hay production this year.  It is our hope that by keeping the fields that are close in proximity to the house and barn areas short, we will reduce the effects of predation on our fowl (see previous post).  It is also our hope that the short grass will help to create a fire-defensible zone in the areas around our house.  You may already know that we have been plagued by a spate of wildfires recently (see posts here and here).  I have read claims on other farming and ranching related blogs that tall grasses will not burn, as long as they are lush and green.  I have seen otherwise,  and until the firebug that is running around in our area is apprehended, I will rest easier with short grass surrounding the house and paddock areas.
Like all other land-use decisions a property owner faces, this decision involves various trade offs. Short grass means less cover for predators, which is our goal.  But it also means less cover for the wildlife that have learned to make effective use of the tall grass.  Birds of various species use the grasses to nest in.  Deer use the grasses for browse and for cover.  Grassy areas along the forest-field transition are used by the deer to give birth to their young.  Wildlife of all types will use the tall grasses to bed down in.  And who hasn't heard of the proverbial "snake-in-the-grass?  The long grasses, which the wildlife have utilized up until now, will no longer be available in these fields.  Not to mention the production of several hundred square bales of hay that will be lost.
In conjunction with our decision to take several hay fields out of production, we will be compensating by allowing several other fields, such as the field shown in the photograph above, to grow to their full extent and remain tall throughout the year.  These fields will be cut on a rotating basis, such that, at any given time, long grasses will be available for the wildlife to utilize.
Some crazy, eccentric people will sure go through a great deal of trouble just to raise chickens and guinea fowl, won't they?