When we first moved to our place, we soon discovered the joy of cohabiting with ticks.  Buy guineas, we were told by our friendly neighbors, as they do a great job of controlling the tick population naturally, without resorting to pesticide treatments.  So we bought a couple of dozen pearl and lavender guinea keets (chicks).
Among the keets, however, there were also two buff lace polish chicks that had been packed, by mistake, along with the keets.
As it turned out, the chicks were a male and a female, so before long, nature took its course, and we were in possession of fertile eggs.  Retta, being the nurturer that she is, decided to buy an inexpensive incubator for these eggs, and whadayaknow, a few weeks later we were chicken ranchers.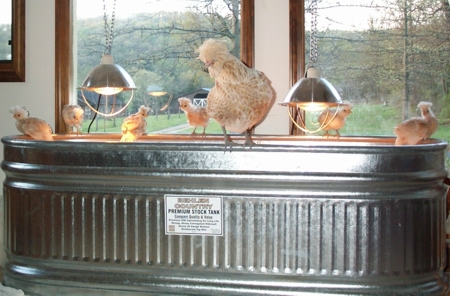 The young chicks soon grew into chickens, who roamed the grounds all around the house and barn areas, pecking and scratching for seed and bugs here and there. Â During the daytime, the chickens were free to roam as they pleased, and at night they always settled down in their coop, where we would lock them up for safe keeping until the following morning.
Life was good, indeed.
Until the predators came!  Hawks, coyotes, fox, raccoon, feral cats, stray dogs, owls …. they all came at one time or another.  Before long, the flock was reduced in size dramatically.  Until finally, we were left with two – a rooster and a hen.
But now, sadly, we are left with only the hen, as some predator managed to kill the one remaining rooster we had this last weekend.  It's kind of sad, watching her – her demeanor in the coop leads one to believe she is truly mourning the loss of her companion.
And so it goes.
As we contemplate ordering some more chicks from a hatchery, we also muse on whether it is more humane to have the chickens live a longer life in captivity, or to allow them the opportunity to free-range during the day, knowing full well that they are destined to be picked off, one-by-one, by the predators that abound here.