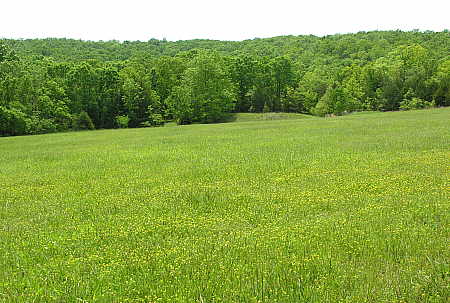 We have several ponds here at the ranch, each with it's own character, and each with it's own set of problems and pleasures. This post is about our small catfish pond, which is located in a margin between grassland and woods. In the picture above you can see the berm which creates one bank of the pond, at the far end of this field.
This is what the pond looks like, viewed from the berm which was constructed to contain the pond water.  Across the pond, in the woods, is an area I cleared of brush and set up a fire ring and glider.  It has become an area where Retta and I like to sit and contemplate the world around us, and sometimes have a picnic.  This is what the area looks like –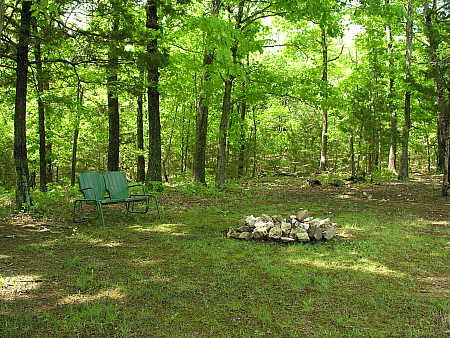 When seated at the picnic area, the view looks across the field towards our barns and paddock facilities.  It is a lovely spot, and I always like to sit here to take a little break during my work day, surveying my little domain and enjoying the peace and quiet (country quiet, which is sometimes not all that quiet, but I digress).
As you can plainly see from the pictures, this is not a clear pond.  It is designed to catch the runoff from a clay based gully which drains about a forty acre watershed.  Every time it rains, clay is washed into the pond along with the rain water.  From the time we first acquired this property, I have been dissatisfied with the lack of water clarity in this pond.  I mentioned this problem to an employee of the local farm store, and he told me he had just the solution.  He sold me a gallon container of a liquid, which I proceeded to apply to the pond per the directions.  I should have done more homework than I had, because this is what I ended up with –
Now, I don't know about you, but I prefer the natural silty brown over this obviously artificial looking turquoise dyed pond.  Fortunately, the pond returned to it's former natural state after a few rains.  Unfortunately, the pond was bright turquoise when NASA flew over us on their latest photography mission.  In the space imagery that was produced from this mission, our pond color stands out like a beacon in the night.  I even received a comment about this from the Arkansas Forestry Commission forester who came out to assess our property.  He said he had to stop and scratch his head a few times trying to figure out what that bright turquoise spot was on the image!
I have since been told that there is some kind of chemical product that can be added to the water that affects the ionization of the suspended particulate matter, causing it to sink to the bottom of the pond.  I have not been able to locate any such product, except for certain solutions meant to be used in tiny backyard ponds.  And if I can find this product, I suppose that it would have to be used whenever the rains washed more clay silt into the pond.  So I will instead try to accept the pond as it is.  After all, there are plenty of healthy catfish and minnows living in it, so why should I care?  And most important, guests who come to visit us here at the ranch always seem to enjoy throwing in a line, even if the water is silty.