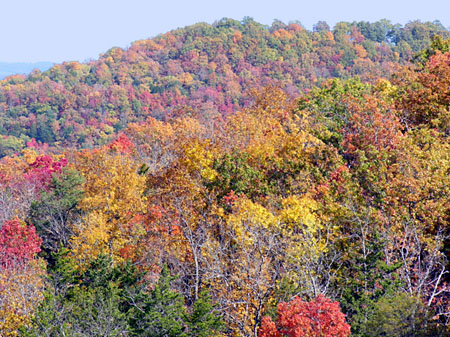 As you can see from the photograph above, the fall color change continues to evolve, bringing with it the varied red, gold, and orange hues that glimmer so brightly in the mid-day sun.  The colors become more vivid with each passing day, and I think we are still a few days away from this year's peak coloration.
You may recall from a previous post entitled Is That You I'm Seeing Over There?, I like to take panoramic photographs.  The link below will take you to a large panoramic photograph which overlooks our property, and which shows what the countryside is looking like right now.  It is a large file and may take a minute to load, but it is well worth the short wait (even for the impatient amongst you readers).
                           Panoramic view of property in fall
As you may have figured out by now, I'll keep posting about fall colors as long as they last.  As I already mentioned, I suspect that we are about at the peak of this year's colors, although the forecast is for continuing weather conditions conducive to a beautiful show.