The latest crop of prosumer EVF (electronic viewfinder) digital cameras feature 8 mega-pixel images, coupled with a 10X optical zoom lens.  Some feature VR (vibration reduction) lenses.  If you have never seen a demonstration of the power of this combination of features, you may be interested in these photos.
If you peer at this first photo closely, you will see a group of purple flowers (irises, I believe) that are growing at a distance of 100 feet from where I stood to take the photo.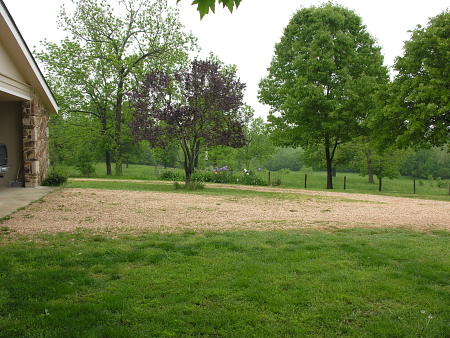 In the next photo, I have remained in the same location, but now I have zoomed in fully on the iris bushes.  In 35mm camera equivalency, I have zoomed from a 35mm (moderately wide-angle) shot to a 350mm (long telephoto) shot.
The photo above demonstrates the power that a 10X-optical zoom lens brings to the photographer.  Now, if you again look closely at the photo just above, you will see towards the bottom, just slightly off-center to the right, deep purple petals and a very dark iris bud.  Here, let me help you to see it-
What you are looking at here is simply a cropped portion of the second photo, but there has been no enlarging or interpolation involved whatsoever.  It is merely a pixel-for-pixel depiction of what the camera captured on it's sensor, and is a good indication of the power that 8 mega-pixel images bring to the photographer.
I will exhort you to think this through as you look at these photos again.  In the last photo you can see the pistols of the iris. You can see the detail of the veins on the petals of the irises.  And the image you are viewing was captured by a point-and-shoot camera from 100 feet away, on an overcast day, at 1/48th second shutter speed, without the aid of a tripod!  Think of all the possibilities with these kinds of cameras!
Another quick example.  Retta found this turtle on our patio last week, and so she grabbed the camera and snapped a few pictures of this fellow.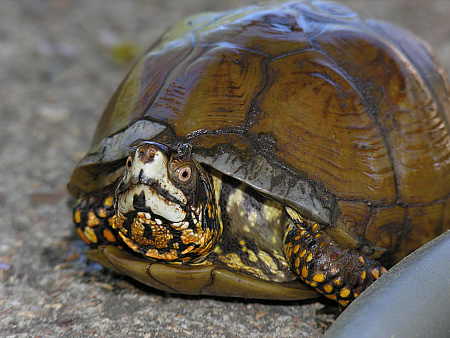 Or should I say, these fellows, because when Retta examined the photo on the computer, she discovered that the turtle had a passenger!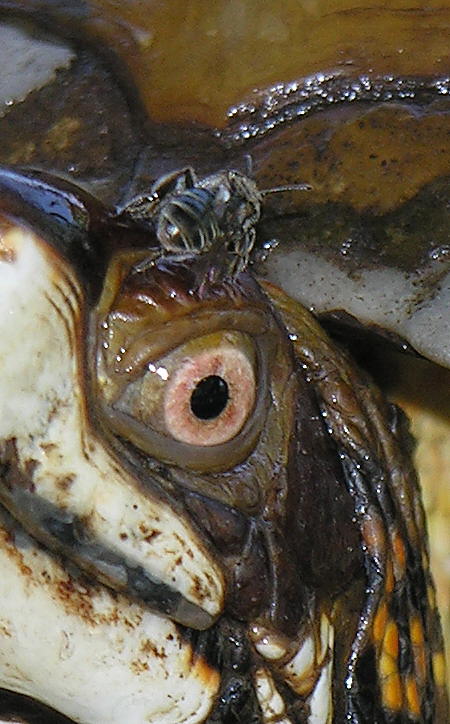 These photos were taken with a Nikon Coolpix 8800, but the point of the post is to plug the capabilities of this breed of camera, and not necessarily this specific make or model.