This is one of our hay fields immediately prior to cutting, the first of four steps in our hay production for this year.
The freshly cut fescue grass, seen above, is allowed to dry in the sun for a few days until the moisture content is low enough to permit safe baling of the hay.
When the grass has dried to the point that it is ready to be formed into bales of hay, it will look different from when it was newly cut, as is evident from the photograph above.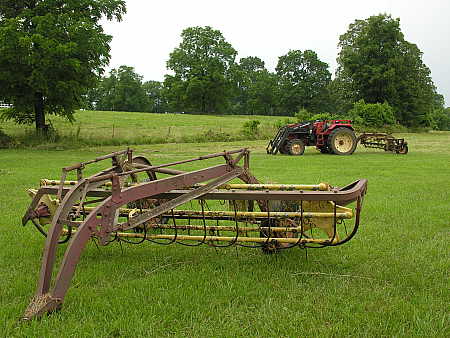 At this point, the dried fescue is ready to be raked into windrows in preparation for mechanical baling.  The photograph above shows the two rakes that are being used to wind-row the grass laying in the fields.
This is the end product of cutting and wind-rowing in the field.  The grass is now ready for the baling machine to arrive and perform it's magic (the topic of last year's post Boosting The Average).
But what's this?  Something seems to be haywire out in one of the hay fields.  You may recall from last year's Boosting The Average post that one of the rotary cutters used to cut the fescue broke, requiring repairs in the field in order to proceed with the hay production.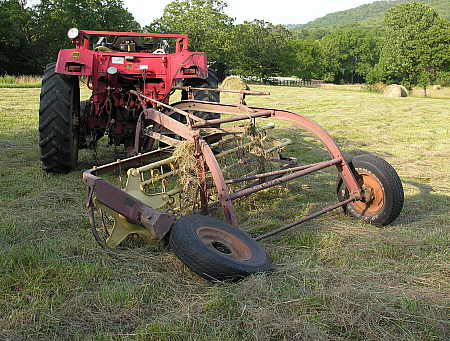 As you can see, this year's problem involves one of the hay rakes.  It seems a wheel decided to fall off!
As Craig knelt down to figure out what would be required to fix the broken wheel, another problem came to mind.  How to lift the very  heavy implement in order to re-attach the wheel?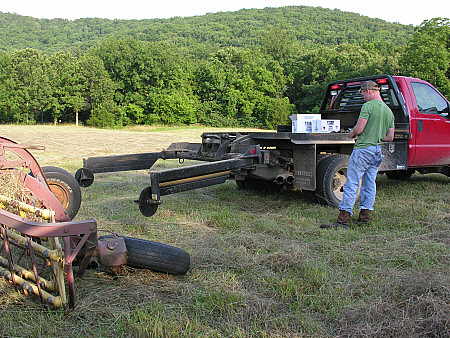 Fortunately, Craig had his hay hauling truck "Cannonball" with him, and as you can see, this truck is fitted with a hydraulic bale lift on the bed of the truck.  With a little bit of care, the lift could be used to elevate the heavy hay rake for the repairs it required.  
With the hay rake elevated, Craig had no problem fixing the broken wheel (with a little help from a few hardware items found in my shop parts bins).
And as you can see, the hay rake is now as good as new – well, almost good as new, considering that it is probably as old as I am!
Part II (and perhaps a Part III) of our hay baling shenanigans will most likely be forthcoming in the near future.  I'll bet you can't wait, can you?